The journey of the Game Of Thrones franchise over the past several years has been a remarkable one. The original book was published in 1996 and received relatively little attention outside of a specific fantasy novel community (which, that said, is no small community). Just over 20 years later, that book and its sequels have spawned arguably the most successful series in modern television history – and, like any truly phenomenal franchise these days, so much more.
For instance, the main development of late has been the gradual unveiling of a whole lineup of spin off shows based loosely on the original material. This might not be a big deal if we were talking about a smaller network or even a film studio, but the notion of HBO – which prides itself on unique, premium content – opening itself up to four twists on a single successful show demonstrates just how big a hit Game Of Thrones has become.
Somewhat predictably, the series has also led to a series of games, with more interpretations almost certainly on the way. Some of these have been simple games that essentially use licensing to take advantage of the show's popularity, such as a themed slot reel on the internet. Suggesting that it's "time to head to Westeros"(the fictional land at the heart of the show), this game simply uses a Thrones aesthetic and backstory to set a familiar tone. In other cases, games are more complex, with some mobile and console titles named after the show effectively allowing fans to play through their own Thrones-like narratives.
These developments, however – spin offs and video games – are what we might expect of a popular fantasy series. People get hooked on this sort of material and inevitably want more, and these are the means by which the creators and studios can provide it. What's a little bit less ordinary, particularly concerning a story that doesn't take place in our own world, is for such a series to inspire travel itineraries. And yet, that's just what Game Of Thrones has done.
HBO has essentially spanned the globe – and most notably, much of Europe – in its spectacular attempt to bring the fictional world of this series to life. In doing so it has put a number of beautiful locations on the map, and led to so much tourism in some places (most notably Dubrovnik, Croatia) that local governments are attempting to cut back!
A travel itinerary based on Game Of Thrones is no mere studio tour or fan experience. It's merely a stunning tour of some of Europe's most interesting and beautiful places, inspired by a show that made us look at them all a little more closely. This is our look specifically at some of these locations that you can visit in the midst of a Eurail trip.
Edinburgh, Scotland
While the UK isn't included on your Eurail pass, it's quite likely that you'll want to make a stop or fly into the UK anyway.
Edinburgh actually isn't a known filming location for Game Of Thrones. However, it does have quite a bit to do with the series. For instance, the events that inspired the show's infamous "Red Wedding" happened in Edinburgh Castle. The city is also close to Antoine's Wall, which, coupled with Hadrian's Wall, is believed to have inspired George R.R. Martin's "The Wall." Thus, for any serious fan of the show, Edinburgh is a worthy starting point.
Seville, Spain
Seville is a wonderful city to visit, and just a quick train ride from Madrid. It doesn't get as much attention as some other locations as a filming spot for the show, yet its Alcazar – a royal palace built with both Christian and Muslim influence – served as a sort of base for one of the show's more unique locations. Specifically, the Alcazar was used as the backdrop for the beautiful water gardens of Dorne.
Girona, Spain
Girona, too, can be overlooked as a Game Of Thrones filming location, yet it actually plays into several different scenes. The "Old Town" area within this medieval town includes alleys and stairways used for scenes like Arya Stark being attacked and begging in the streets of Braavos. However, the Girona Cathedral and the great stairs in front of it are also used as the Great Sept of Baelor, which is a very important spot in the show.
Split, Croatia
What you may quickly come to realise if you explore the idea of visiting Croatia is that the charms of Dubrovnik – seaside views, orange rooftops, and a stunning Old Town – are much like the charms of many other cities, islands, and peninsulas. Thus, Split is not unlike Dubrovnik, and is perhaps even easier to enjoy due to fewer tourists and more spread out attractions. Where Game Of Thrones is concerned, it was used as the basis for much of the land of Mereen.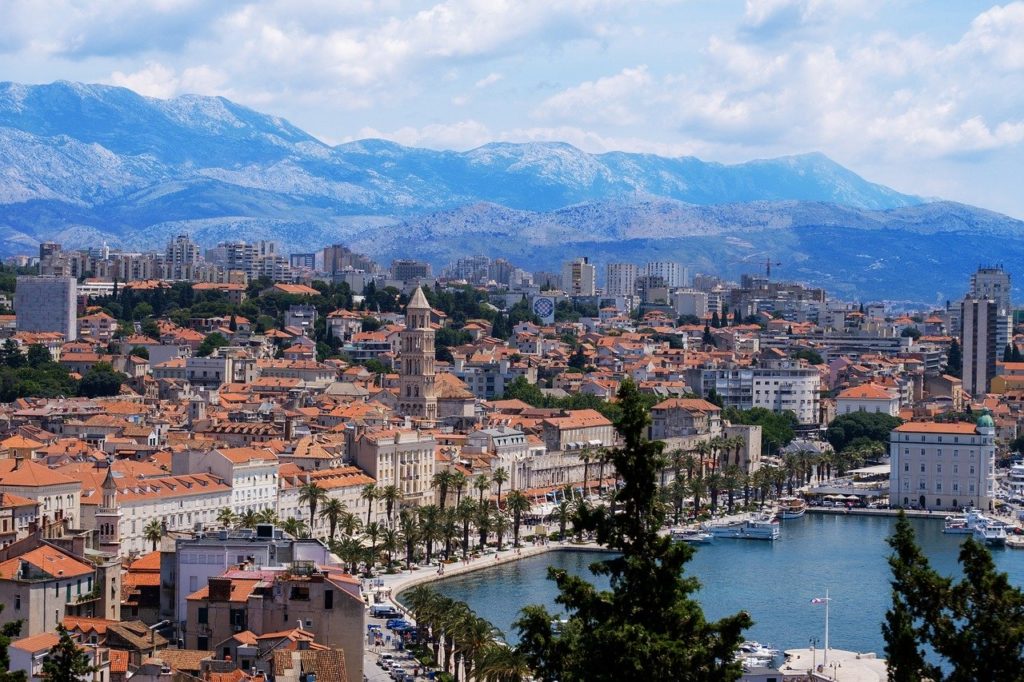 Ston, Croatia
Ston is a little bit more subdued as a destination, which may appeal to a lot of tourists. It's easily reachable from Dubrovnik, and, like the capital city, has a lot to do with the filming of King's Landing. Specifically, the 7km Walls of Ston, built in the 14th century, are used to compose the fortifications around the city.
Dubrovnik, Croatia
Simply put, Dubrovnik remains the most incredible place to visit in Croatia, as well as the most noteworthy Game Of Thrones filming location in the world. It's the home of the story's Red Keep, the House of the Undying, the city of Qarth, and most importantly, the Westerosi capital of King's Landing. To explore this city today is truly like stepping into the fantasy itself – which is why droves of tourists are passing through on a continual basis.
Explore Europe and all the Game Of Thrones filming locations with your Eurail pass. Start planning your Eurail trip!