Railway stations are often easy to ignore. They are understandably considered both as gateways to more exciting destinations and as spots for unavoidable layovers.
And yet… Europe has some of the world's best train stations, interesting in their own right for their history, architecture and, sometimes, for the views they offer. When you next find yourself on a Eurail trip, take a moment to linger in the following stations:
1. Antwerp Centraal Station, Belgium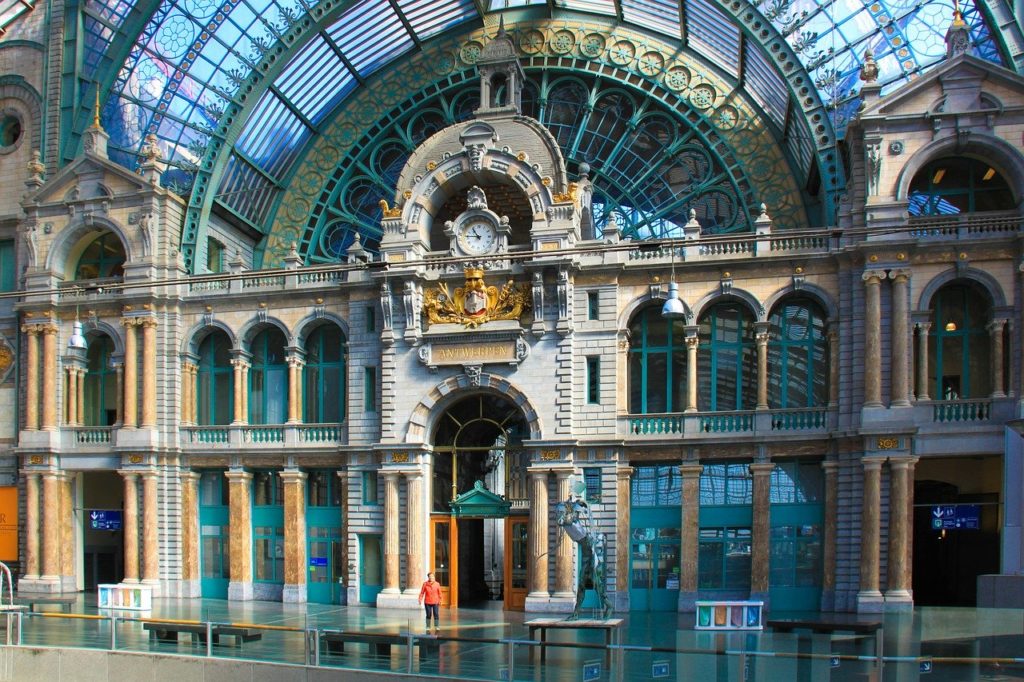 This station is consistently lauded as one of the world's best. At the beginning of the twenty-first century, it shot to literary fame in the opening scene of W.G.Sebald's last book, Austerlitz.
Sitting in its grand waiting room, Austerlitz reveals the station's history to the novel's narrator: 'designed by Louis Delacenserie, it was inaugurated in 1905, after ten years of planning and building…a cathedral consecrated to international traffic and trade'.
Austerlitz, that brilliant intellectual of European architecture, notes its debts to the 'palaces of the Italian Renaissance', the Pantheon, and to the buildings of the Moors and Byzantines. King Leopard, the cruel megalomaniac, ordered it to be built so as to bring renown to his aspirational state.
This monument was severely damaged by V-2 bombs in World War II and was very nearly torn down in the mid-twentieth century. Take in its vast scale and its unsettling colonial legacy; you won't regret this stop-off.
2. Keleti, Budapest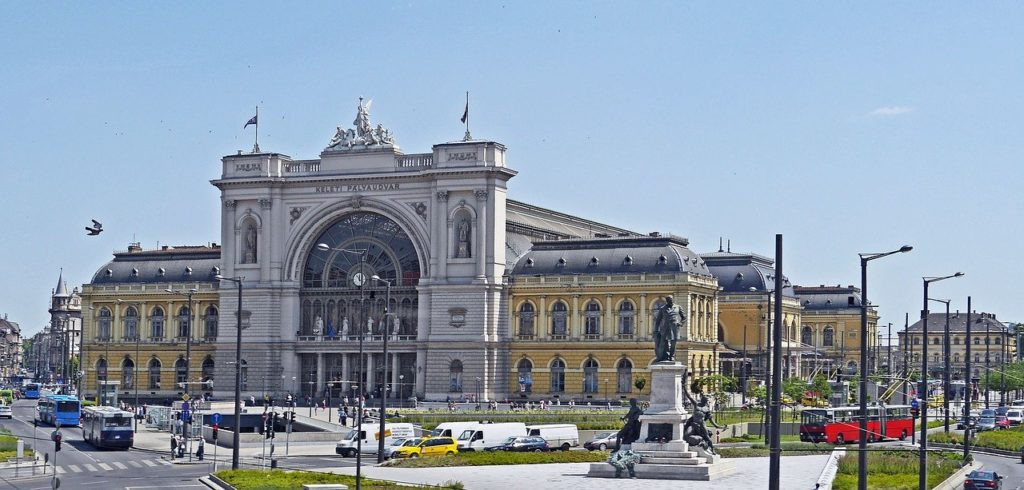 As eclectic architecturally as Antwerp Centraal Station, Budapest's eastern terminal was built just twenty years before Belgium's famous turn-of-the-century monument.
Keleti, which means 'eastern', has connected Budapest with Transylvania and the northern Balkans since 1884. Its chief engineer, Gyula Rochlitz, travelled to lots of other European stations for inspiration. Hence its similarities to stations like Berlin's Lehrter Bahnhof.
In addition to its beautiful facade, discover the murals inside. But before heading inside, look for the statues of James Watts and George Stephenson, two Britons who are celebrated in a fittingly international place, which adorn the building's exterior.
With over four-hundred trains arriving and departing every day, Keleti offers plenty of choice for those keen to explore more of Hungary.
3. Atocha Station, Madrid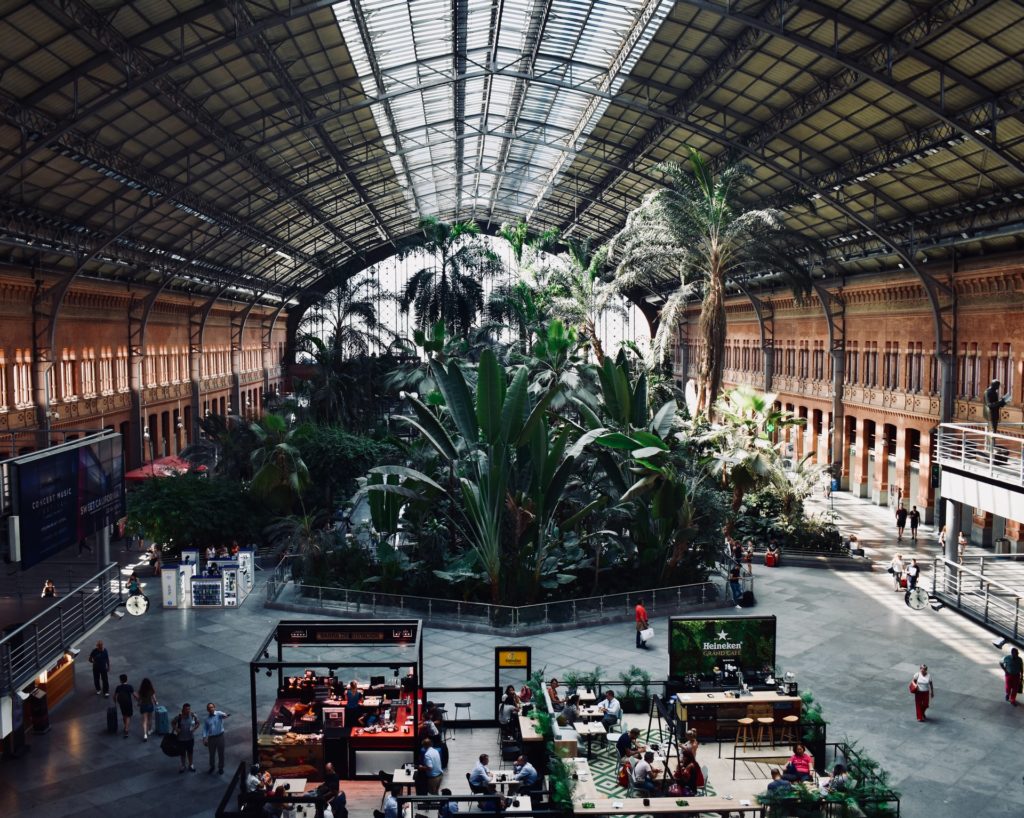 The largest station in Spain, Atocha Station is a huge wrought iron edifice, which was rebuilt after the original building was destroyed by fire in the late 19th century.
Alberto de Palacio Elissagne was the chief architect, but Gustave Eiffel, of Parisian fame, also collaborated on the project. The station building has now been turned into a botanical garden, complete with roughly 7,000 plants- the palm trees, a head above the rest, almost touch the roof. Be on the look-out for turtles and goldfish, too.
Atocha Station is served by the AVE high speed train. In hardly any time at all, you can be whisked off by rail to the city centres of Valencia, Seville and Barcelona.
4. São Bento Station, Porto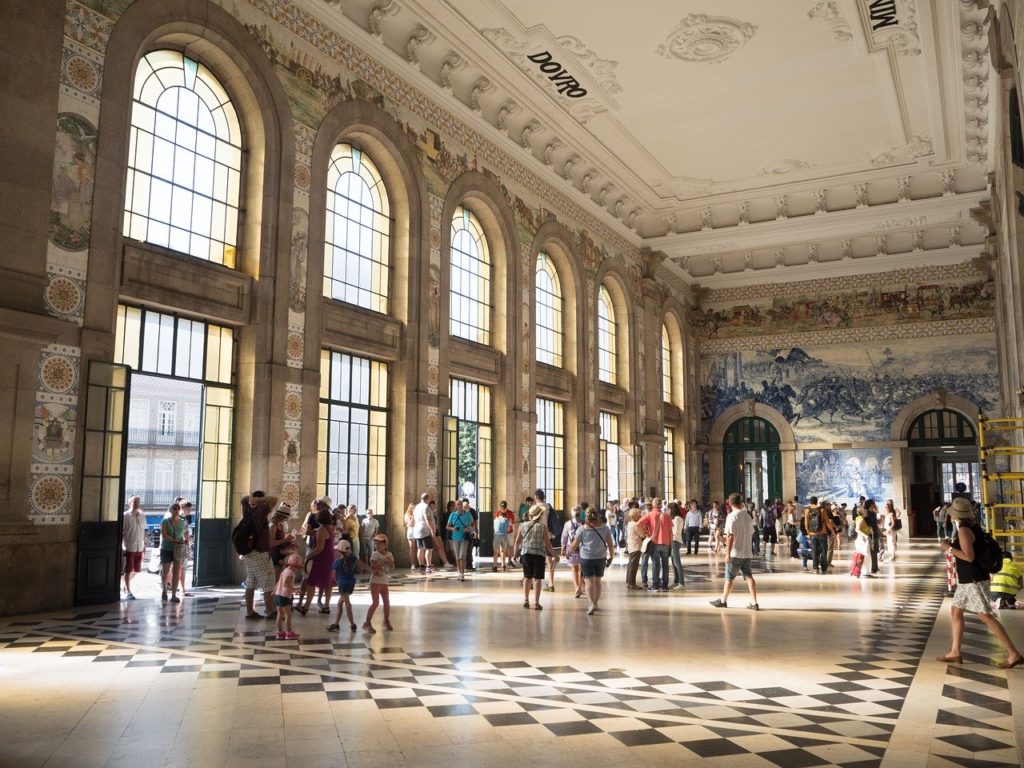 São Bento (San Bento) has a museum-like quality; the interior collection far surpasses its more mundane facade. When you enter this u-shaped granite building, pay special attention to the 20,000 azulejo tiles in the hall. They were painted (with a tin glaze) in the first decade of the 20th century by the renowned Jorge Colaço, whose work can also be seen in Windsor Castle amongst other places.
Give yourself plenty of time to take in the historical depictions. A colourful frieze, running around the top of the room, shows the history of transport; if you look closely enough, you should be able to spot a train.
Below, blue and white tile compositions cover Portuguese history, including the Battle of Valdevez (1140). This fight, which marked the end of Portugal's first war of independence, is represented on the northern wall.
San Bento really is a station like no other. Admire its hall properly before heading off for a glass of Porto's finest.
5. Jungfraujoch, Switzerland
What this station loses in beauty it makes up for in height: located at 3,454 metres above sea level, it is Europe's highest railway terminus.
A glacier saddle in the Bernese Alps, the Jungfraujoch has commanding views over some of Europe's most dramatic scenery, with the Top of Europe building and an additional viewing platform sitting above it at 3,572 meters. Hikes over the crevassed glacier aren't for the faint-hearted or under-prepared!
Your Eurail pass covers you up to Interlaken, and you can then get a 25% discount up to Jungfraujoch. Be warned though: the price is as steep as the railway tracks.